Chase less marketing payments.
Sell more properties.
Vendor Advertising Finance made simple because every minute of your time is valuable.
Chase less marketing payments.
Sell more properties.
Vendor Advertising Finance made simple because every minute of your time is valuable.
Created by Agents, for Agents, Campaign Flow makes real estate marketing finance easy.
You want to sell. Your vendor wants to sell.
With Campaign Flow and ListSure's multiple payment options, you can offer Vendors a way to Pay Now, Pay Later or Pay On Success.
This provides unmatched convenience and choice, allowing your Vendor to select the option that best suits them. It can be completed in mere minutes, all from the comfort of their home.
This way, the finance for marketing is sorted so you can get on with what you do best – getting a great result for your client.
How do we know? We're Agents too. We're here to help you help them.
We've partnered with ListSure
With ListSure, you can completely remove the Vendor's risk
with our new Pay On Success Option.
No agency fees
There's no cost to you or your agency to use our services.
Get funds fast
Funds are disbursed to you as quickly as 24hrs.
We do the chasing
Our team do the admin, so you don't have to.
No lock-in contracts
We're committed to ongoing service offering you flexibility.
Trusted lender
We are a fully credited and regulated lender working under an Australian Credit License.
Your branding
We customise our payment platform with your branding so your Vendors feel comfortable.
Risk free
No liability for you around collections or bad debts – we manage it all.
Full support
We give you supporting collateral and are always here to help.
Don't let property marketing payments slow you down
Discover a better, innovative way with Campaign Flow and ListSure
1.
You discuss your sales process with the Vendor, including marketing costs.
2.
You create your agency branded payment link, offering your Vendor access to Pay Now, Pay Later or Pay On Success options.
3.
They select whichever suits them and you receive the funds within 24 hours so you can start – no matter what selection they choose.
4.
We take care of all of the finances, admin burden and management so you can focus on the sale.
Marketing has always been a sticking point
As agents, we all know that a solid marketing campaign makes a big difference to the outcome of the sale of a property. But it's not always possible to showcase a home in its best light if clients don't see the value or are worried about the amount.
These costs can make a Vendor halt the process, get nervous or panic about paying upfront.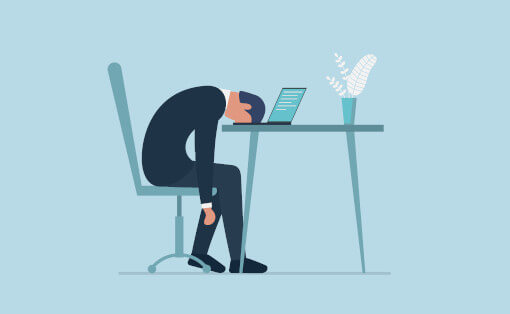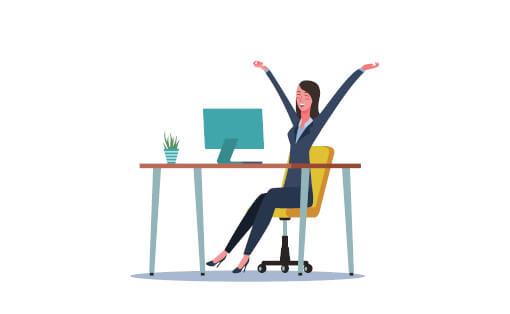 With Campaign Flow, it's not a problem any more
We empower you with the ability to offer your vendors peace of mind, by providing them with the financial freedom to invest in the perfect marketing campaign. Free for real estate agencies, our payment options help start the sales process sooner as we fund the advertising and marketing budget, including styling.
Focus on selling. We focus on the finances.
You're the experts at selling properties. We're experts in finance and managing payments. Our goal is to take away all of the marketing costs, invoices and debts, which is what we do best, so you have the space to do what you do best.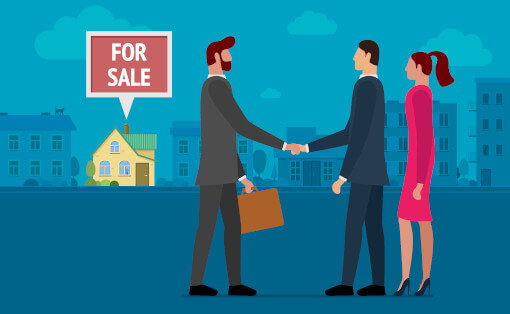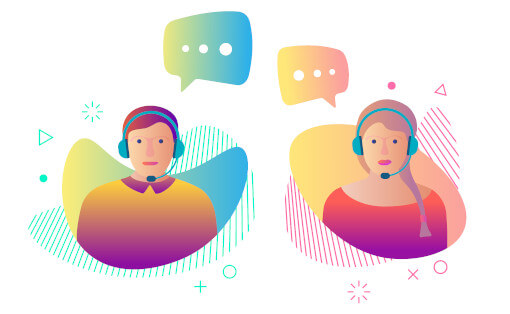 Our team is right by your side to support you in any way we can. That's why we offer superior, ongoing customer service so you have everything you need to market and sell properties.
Your Vendor's payment options
When you offer your Vendor Campaign Flow, they can choose not only when and how they pay, but if they pay.
No matter what option they choose, you can your marketing finances in 24 hours and you can start the campaign immediately, to get the sale.
PAY NOW
Pay Now is a quick and easy way for your vendor to pay their marketing expenses upfront.
Simple and convenient

Your vendor can pay from the comfort of their own home

No admin, paperwork or scribbling down credit card details

Secure and reliable

EFT & Direct Debit available, powered By Westpac PayWay
PAY ON SUCCESS
Pay On Success removes the stress of marketing a property for sale as these expenses are ONLY paid when the property is sold. This means that if their property doesn't sell, they DO NOT have to repay their marketing expenses.
Simple and convenient

Vendor can sign up in minutes

This removes all resistance to marketing

No risk for you or the Vendor

Powered by trusted brand, ListSure 
PAY LATER
Pay Later is a fast and convenient way to fund a vendor's marketing budget until their property sells.
Simple and convenient

Your vendor can sign up from the comfort of their own home

You don't have to spend time on admin or managing payments

Secure and reliable

Less pressure for your Vendor and less stress for you
Our difference makes all the difference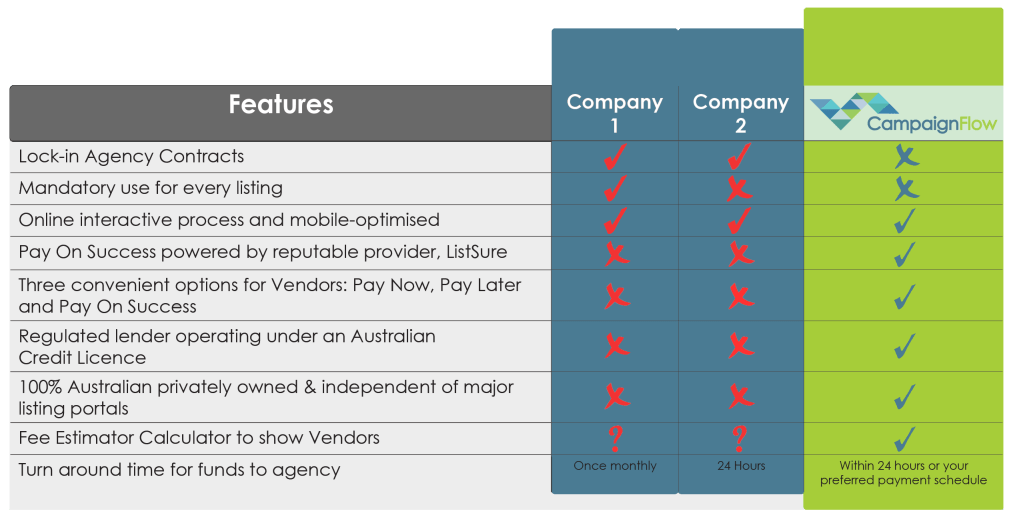 Listing Marketing Costs are now sorted in 24 hours
Finance the marketing that each property deserves within 24 hours.
This can include upfront costs for:
Have questions? We have answers
Ready for a competitive edge your vendors will appreciate?
Get started today and offer your Vendor innovative payment options that will speed up your sales process and remove the admin.
Sign up takes just less than a minute.