Marketing your property helps your Agent get the best result for your home.
But it can be an intimidating cost you weren't expecting
The right styling, marketing and advertising attracts more competition which can make a difference to the final result.
However, the right property marketing comes with an upfront cost. If these aren't paid, it can hold back your Agent from showcasing your home in the most appealing way.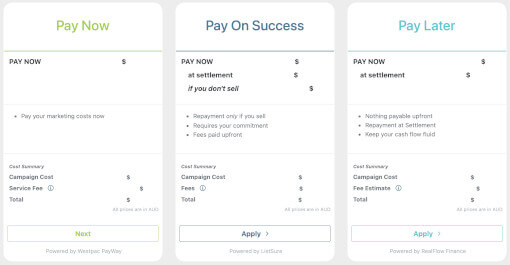 There's now a better way that works around you
Fortunately, with Campaign Flow's multiple payment options, you can now choose how you want to pay, in a way that's convenient for you, all while your Agent still gets the funds they need to take your property from selling to sold.
Having the choice to Pay Upfront, Pay On Sale or Pay On Success makes marketing an investment that contributes to your sale – not a cost you need to fund before anything begins.
Amplify advertising
We give your Agent the finances to market your property to the right people.
Sell faster
With an effective marketing campaign, you can sell at a higher price in a shorter time frame.
Payment convenience
No need to worry about upfront marketing costs so you're not out of pocket before the sale.
Confidence in the process
We ensure agents have no vested interest so they can focus on what they do best: selling your property as a top priority.
Peace of Mind
We are a fully accredited and regulated lender working under an Australian Credit License.
Competitive fees
Our service fees and interest are highly competitive and value for money.
Immediate funds
Funds are sorted within 24 hours, so your Agent can work on your campaigns as soon as possible.
Flexible options
You and your agent can modify your marketing campaigns to ensure the success of your sale.
Don't let property marketing payments delay the sales result you deserve.
Discover a better, innovative way to pay with Campaign Flow.
As your Agent about Campaign Flow today.
1.
Your Agent will discuss your required property marketing and sales process, including all costs required.
2.
Next, your Agent sends you a payment link which offers you Campaign Flow's three methods to pay: Pay Now, Pay Later or Pay on Success.
3.
Select the option that suits your needs and follow the instructions. You Agent will receive the funds within 24 hours to begin your marketing.
4.
We work closely with you as we take care of all the finances, helping your Agents focus more on achieving the best sale for your home.
No need to worry about marketing costs
Your home's marketing can include advertising, styling and renovating your property, as well as digital campaigns, collateral and more.
It's all an investment that attracts more buyers, higher sales price and greater returns. However, the amount can leave you out of pocket and be inconvenient. But you don't want to hold your marketing back from getting you the sale price you deserve.
With Campaign Flow, we bridge that gap, giving you the ultimate convenience.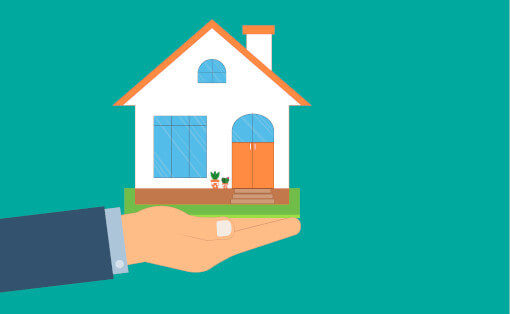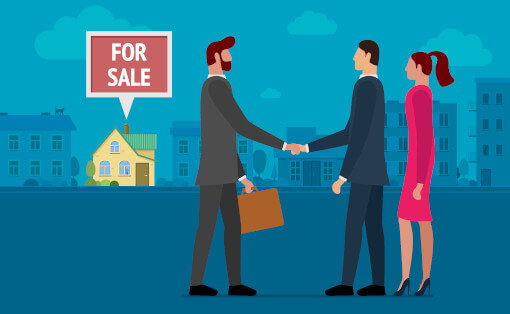 Empower your agent without the payment burden
Your Agent has the best ideas around how to position your property in the real estate market. They just need the funds from you to transform these ideas into reality and get buyers in the door.
Campaign Flow gives you innovative payment options which allow you to finance the styling, advertising and marketing budget of your real estate, around your convenience and circumstances.
Now, your Agent can set your home up for selling success.
With Campaign Flow, you can choose not only
when and how to pay, but also whether to pay or not.
Regardless of your selected option, we will deliver your marketing finances to your Agent in 24 hours so they can start the campaign immediately and get the results you're after.
PAY UPFRONT
Pay Now is a quick and easy way for you to pay your marketing expenses upfront. Just enter your details and it's all done.
Simple and convenient

Pay from the comfort of your own home

Secure and reliable

Powered by Westpac, PayWay
PAY ON SUCCESS
Pay On Success removes the risk of marketing your home for sale as these expenses are ONLY paid when the property is sold. This means that if your property doesn't sell, you DO NOT have to repay the marketing expenses.
You can sign up in minutes

No risk for you

Powered by trusted brand, ListSure
PAY ON SALE
Pay Later is a fast and convenient way to fund your marketing expenses until your property sells.
Simple and convenient

Sign up from the comfort of your own home

Secure and reliable

Less pressure
Listing marketing costs are now sorted in 24 hours
Finance the marketing that your home deserves within 24 hours.
This can include upfront costs for:
Have questions? We have answers
Enquire now to find an a local agent that uses Campaign Flow
Contact us directly or send your details and we'll be in touch shortly.